A Little About Us . . .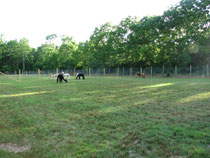 We purchased our first alpacas in August of 2005, and after our barn and first paddocks were built, we brought Andina, Chanel #5 and Cherokee home in February 2006. Annabel Lee and Oliver Twist were born soon after, in July, and so our herd was up and running! Although we have had as many as 21 alpacas here on the farm, our herd is aging (as are the farmers!), and we are not breeding anymore. We currently have 15 members of the herd, each with their own special personality.
Over the years, we have bred these lovely animals because we enjoy them so much, and also as a business. Alpacas' beautiful fleece is very soft and warm, and makes wonderful sweaters, capes, hats, scarves, and other luxurious items. We have quite a selection of Peruvian alpaca products for sale in our farm store!
We are pleased to be uniquely connected to God's creation, and to be able to share it with others, through these endearing animals.