Welcome to our Farm!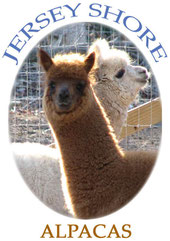 Jersey Shore Alpacas is a small farm owned and operated by Jim and Tish Carpinelli, and located in Green Creek, a small town near historic Cape May, NJ.
We take pride in ensuring that our alpacas are cared for with the utmost attention to their health and happiness. Our farm focus is agritourism (farm tourism), and our alpacas are happy to oblige by enthusiastically greeting visitors!

Check out this cool video of our farm from Channel 6 Action News in Philadelphia (just after the paddleboarding segment). Note: our schedule is not correct in the video. Please see below for our hours. Enjoy this quick look at our farm!
2020 Spring Schedule
IMPORTANT: Due to the Coronavirus situation, our farm will be closed on Saturdays until further notice. We will not be accepting private tours until May 2020, unless something changes. The following is our normal operating information.
Stay safe and healthy!
Our farm is normally open to the public on Saturdays 10am-4pm (no appointments). Visitors are welcome to come feed the alpacas at the fence line with carrots we provide. There is no admission fee, but we do have a donation box on the fence (donations not required but are greatly appreciated). Click here to find out more about our public days.
We will be accepting private appointments starting in June, Mon.-Fri. only.

*Please note: we are unable to offer private tours on "open" days - we do not have enough staff or alpacas to do so.
(Note: private tours are available year-round M-F, except July, when they are offered M-W). Private tour rates are below:

In-Season (May-Sept.) $30 total 

f

or a group of 1-4 people, and $5 per additional person
Off-Season (Oct. - April) $25 total for a group of 1-4 people, and $5 per additional person
Please call or email us for a reservation.
Reservations must be confirmed in advance.
A bit more information . . .
The main difference between an "open to the public" visit and a private tour is that on "open" days, you can feed carrots to the 'pacas at the fence line, and there is a tour guide outside to answer questions. The private visits include actually going into the paddock with the female alpacas for feeding and mingling (sort of like "swimming with the dolphins," but without getting wet!).  Also, your tour guide is for your group alone, so you can ask as many questions as you like! For more information about "open to the public" days and private tours, click the links! 
Note: Private tours are one group at a time, and not combined with any other visitors. We will not "add" anyone to a private tour.