Welcome to our Farm!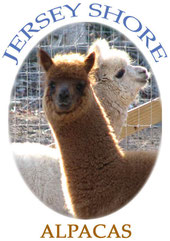 Jersey Shore Alpacas is a small farm owned and operated by Jim and Tish Carpinelli, and located in Green Creek, a small town near historic Cape May, NJ.
We are committed to breeding fine animals with correct conformation and high quality fleece. We take pride in ensuring that our alpacas are cared for with the utmost attention to their health and happiness.
Check out this cool video of our farm from Channel 6 Action News in Philadelphia (just after the paddleboarding segment). Note: our schedule is not correct in the video. Please see below for our hours. Enjoy this quick look at our farm!
September-December Schedule 2017:
We are open to the public on Saturdays 10am-4pm, without an appointment (free, but we do have a donation box on the fence :) Also, private appointments are available Monday-Friday - cost is $20 for a group of up to 4 people and $5 for every additional person). Please call or email us for a reservation. It is best to reserve a tour at least 1-2 days in advance during the fall, but you are welcome to call/email for last minute availability. Reservations must be confirmed in advance. We are closed on Sundays.*
Note: We are not able take private appointments during any "Open Farm" day (there just are not enough of us or the alpacas to do so). Thanks for understanding.


A bit more information . . .
The main difference between an "open farm day" visit and a private tour is that on "open" days, you can feed carrots to the 'pacas at the fencline, and there is a tour guide outside to answer questions. The private visits include actually going into the paddock with the female alpacas for feeding and mingling (sort of like "swimming with the dolphins," but without getting wet!).
Also, your tour guide is for your group alone, so you can ask as many questions as you like!
Please visit our FAQ page for more information about visiting our farm!