Meet the Herd: the Girls . . .
For breeder information, please see our Openherd site.

Andina is our oldest alpaca, born in 1996. She is the matriarch of the females, and possibly the smartest of the whole herd. You can't trick Andina into the barn by rattling her feed dish like the other 'pacas!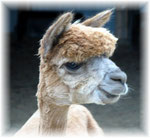 Chanel #5 is a real sweetheart (when she's not pregnant, that is!). Along with Andina, she was one of our first alpacas, and continues to be a wonderful mom for us.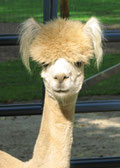 Annabel Lee was the first cria born here on our farm, and one of our favorites. She's also a sweetie like her mom (Chanel), and a very attentive and dedicated mother to her crias, General Patton and Allonsy. When she's in the mood, Annabel is loveable and seems to enjoy attention and touching. Of course, if she isn't in the mood, well . . .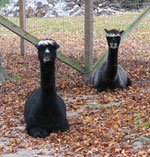 Leah (front) and her mom, Victory have both had lovely girl crias for us (Cara Mara and Michaela). Both ladies are rather shy, but still curious. Tory, especially, is a huge fan of getting hosed off on hot summer days.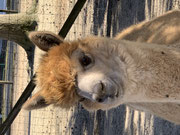 Zelda, also Chanel's offspring, has lovely, soft, very dense fleece, and is one of our finest alpacas. She is also very friendly with her "kisses," and is always so curious about the camera, that it's difficult to get a good photo of her!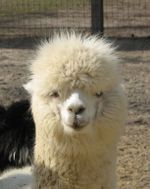 Miss Sera had fleece two inches long at birth! It continues to grow exceptionally long every year. Sera is very shy, and often averts her eyes when you get close to her. Still, she's right there at the fence getting her share of carrots when visitors arrive! Not to timid for a snack!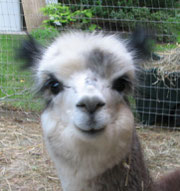 Maybelline (born in 2011), was named for her lovely eye makeup! She's such a cutie - unfortunately, she was born with a genetic defect that means she shouldn't be bred. But she'll make a lovely companion alpaca or pet, with the added benefit of her soft silver, gray fleece.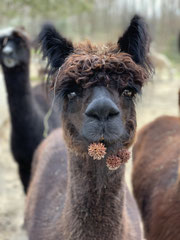 Michaela (also born in 2011), is Maybelline's buddy. She's a little more timid with people than her friend, but she has beautiful thick fleece, and a rich, brown color. We are excited to see how she matures, and we have high hopes for her as a breeder. Her dam is Victory, and her sire is our own Casanova's Lightning Strike.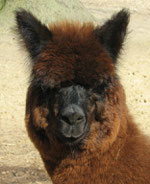 Cara Mara (born in 2011), had a little bit of a rough start, as her mom's (Leah) milk hadn't yet come in. So she needed bottlefeeding with colostrum, yogurt, and goatsmilk for a few days to start. She was small at birth (just 13 lbs.), and remains dainty, but healthy. Her sire is also our Lightning Strike.