Holiday PhotoShoots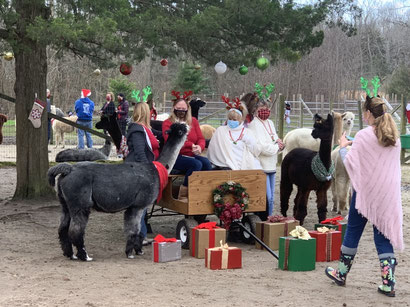 Dec. 2nd, 9th, 16th, and 23rd
By Appointment Only (No Drop-Ins)
We will have our decorated Amish wagon, and the alpacas will be dressed in their holiday scarves for posing with photos! Small groups will be allowed in the pens for mingling (no feeding) and photos! Like last year, we will be allowing "double-booking" each slot, which will allow more families to participate (40 groups/day). Be aware that slots fill so quickly that you may not be able to secure two at the same time for your large family. The link for booking is at the bottom of this page.
*Booking is for one group of 6/slot or fewer (no exceptions, please).
*Please limit those coming into our small shop to those in your group who wish to possibly purchase items. Thanks!
Booking calendar will be available below at 8PM on Saturday, one-week in advance.
No drop-in's 

(scheduled appointments only)

Booking is for one group of 6 or fewer (no exceptions, please). We are allowing double-booking, but we can't guarantee that you will get a second slot for your large family. If not, we are sorry, but we cannot make exceptions.
Tours are 30 minutes with the alpacas, with optional shop time after the tour (up to 6 people in the shop at a time).

There will be two groups (double-booking) at a time in the pen with the alpacas for photos.

There is no fee for the Holiday PhotoShoots, but we will have our donation box on the fence - not required, but greatly appreciated - it supports the alpacas. :)
Groups will be able to take photos with the alpacas (bring your own camera, pls) in their holiday scarves.

There is an outside portable potty available.

The shop will be open after your tour for up to 6 people at a time. 
We allow booking for Holiday PhotoShoots only one week in advance. 

The booking calendar is activated each Saturday evening at 8PM prior to the week you wish to book. If you want the best chance to get a tour, you should set an alarm on your phone to book on that Saturday night! We are just a husband/wife team with a couple friends helping to make the PhotoShoot tours possible, and we often fill quickly for the PhotoShoots.
For larger groups that need two slots, book the first Holiday PhotoShoot time, then select the same time when given the "Book another tour" option. If that time is not available, you will need to choose another slot (please make sure to cancel any slots you don't need).