Private Tours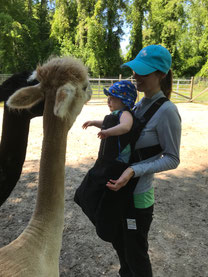 If you love the idea of mingling with the alpacas "up close and personal," then a private tour is the way to go! Visitors are able to enter the pens with most of our herd and feed them carrots we provide. It's fun for all ages! Alpacas are friendly and curious, and very eager for their favorite snack! Your group is completely private (we only host one group on the farm at a time, and we never "add on" anyone to another tour). Your tour guide will share information about alpacas in general as well as some traits of our individual quirky herd members! Private tours usually last about an hour, with the majority of the time in the pens with the alpacas. You will finish up in our shop, where you can find lovely warm, soft alpaca toys and clothing. Payment can be made in the shop by cash or credit.

Please note our COVID precautions:
Masks are required for anyone 2 years or older.
Masks are to be worn for the entire tour, both outside with the alpacas as well as inside the shop (we require them outside because often we are not able to properly social distance when moving among the alpacas and your group members.)
You will be also be required to wash your hands at our hand-washing station prior to meeting the alpacas.
Private Tours are available year-round M-F, except July, when they are offered M-W. Private tour rates are $30 total for a group of up 4 people, and $5 per additional person. Tours are limited to no more than 8 people/group, not including children under age 2 (no exceptions, please).
Please call or email us for a reservation.
Reservations must be confirmed in advance.
The best way to schedule a private tour is by email (note: we will confirm your request within 24 hours - without confirmation, you have not scheduled a tour). Because we offer completely private tours, we are able to host only a limited number, and slots fill quickly during our busy season (usually 2-3 weeks in advance in summer).
Important Note:

We are unable to offer both private tours and public tours on the same day. We just do not have enough staff or alpacas to do so. Thank you for understanding.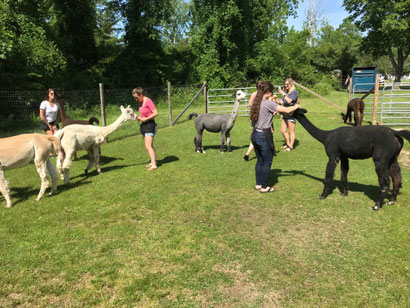 Already booked a tour?
Here is some information you might find helpful:
Payment is made at the time of the visit (usually in the shop at the conclusion of the tour - cash or credit accepted).
Tours usually last about an hour, with the majority of the time inside the pens with the alpacas.
There is a parking area with "Alpaca Lovers' Parking" signs at the end of our driveway. There is also a sign which says "closed" during private tour days. That sign is not for those who have tours scheduled - it's to keep others from interrupting your tour.
You are welcome to arrive early, but please remain in your vehicle until you are greeted. If we are able to begin your tour early, we will, but most of the time we need to follow our schedule.
If it looks like rain for your tour, feel free to give us a call to discuss our rainy day tour scenario. We do not cancel tours due to rain, but you are welcome to do so without any consequence. Just please let us know as soon as possible, so we can fill the slot.
If you are coming during rain (or even after a rainy day/evening), please wear appropriate shoes/boots.