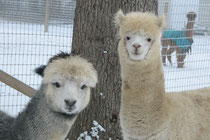 With their thick, warm coats, alpacas are well-suited to the winter months. In fact, I think a still, cool or even chilly evening is one of their favorite settings. It is on such a night that you will see the herd cushed together in small groups outside the barn, in the paddock, enjoying the quiet and the occasional call of an owl. (They have access to the barn, but they prefer to be outside, under the stars).
Although they prefer winter to summer, there are still some accommodations we can make to help them be even happier during the long, cold winter. For instance, when the temperatures drop, we pull out the electric heated water buckets, which warm their water "just enough." In fact, they love the heated water so much that they drink out of whichever bucket is warmer. I like to think of it as a warm cup of 'paca "tea!"
When we occasionally get some significant snow, the herd will generally stay in the barn until it is finished coming down, and a few might venture out onto the white carpet on their paddock. I think it unnerves most of them, though, as they aren't quite sure if they'll have firm footing on this strange white surface. Alpacas are very protective of their feet, and sensitive to where they put their feet, probably because running is their only real defense in the wild. We've experienced alpacas who are terrified to step onto the blacktop of our driveway! So the snow can be a little scary, but eventually they'll venture out into it, provided it's not too deep. If it is deep, we'll dig a path out to the small mound in each paddock, and clear a space on top, so they can at least walk outside to get some air and sun, until the snow melts.
Usually, we also supplement nutritionally during the winter. Because it takes extra energy to keep warm, we give most of the herd beet pulp. Some also receive calf manna pellets and alfalfa to help keep up their weight. These are in addition to their regular diet of orchardgrass hay and pellets. We also put down extra straw and hay for bedding.
Although most of the alpacas have long fleece to keep them warm, the oldest alpaca on our farm, Andina (whose owner boards her here), has shorter fleece, and she need a coat to keep her toasty. Most winter days are not too hard on her, as she seems to be fine if she's cushed with her legs underneath her. But this last really cold spell (12-20 degrees for about a week) had her shivering so much that we confined her to a pen in the barn with extra straw bedding, where she did just fine. Tonight as I write this, it has warmed up, though, and we let her back out (she frequently grunted her displeasure at being cooped up inside the barn!), and she is in her usual spot just under the eaves of the barn, sitting in a pile of straw, with her daughter Maybelline close by her side. It's a sweet sight to see in an otherwise dreary January landscape . . .