Welcome to our Farm!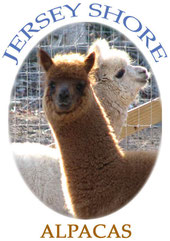 Jersey Shore Alpacas is a small farm owned and operated by Jim and Tish Carpinelli, and located in Green Creek, a small town near historic Cape May, NJ.
We are committed to breeding fine animals with correct conformation and high quality fleece. We take pride in ensuring that our alpacas are cared for with the utmost attention to their health and happiness.
August Schedule 2016: We are open to the public on Saturdays 10am-4pm, without an appointment (free, but we do have a donation box on the fence :) Also, private $20/group appointments are available Monday-Friday in August (and year-round). Please call or email us for a reservation. We are closed on Sundays.
Note: We are not able take private appointments during Saturdays (there just are not enough of us or the alpacas to do so). Thanks for understanding.


A bit more information . . .
There is no admission charge during our regular "Open" days, but we do have a donation box, if you wish to help with the herd expenses (we REALLY appreciate it! :). If you schedule an appointment with us, we do ask for a $20 donation per family/small group up to 9 people for a visit up to one hour. This helps cover the time for preparation and your visit. As an "extra" for your donation, private visitors will be allowed into the paddock with the alpacas if they wish (sort of like "swimming with the dolphins," but without getting wet!)